Check out these printable scrapbook embellishments free download with classic memory keeping words and their definitions. A quick and easy DIY printable!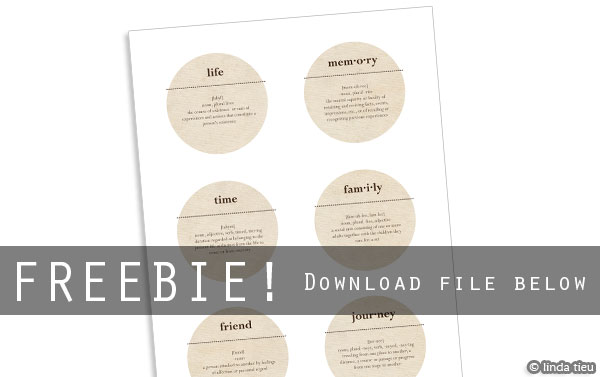 Printable Scrapbook Embellishments Free Download – Circle Definitions PDF
So on a whim one day, I just created these circle definition embellishments. I cut them out and backed them with brown cardstock, so they were ready to go, instant embellishment for my next papercrafting project. However, I didn't actually have a project in mind to use them for – no plan at all.
It's interesting how sometimes, I just want to design something. It pops up like a pretty good idea, so I create it! So good thing I can share with you here on the blog as a free download. I hope they might be useful an instant scrapbook embellishment!
Finally, I did use them in a scrapbook page. Using kraft paper as a my backing, I framed up a bunch of photos and simple journaling. My circle definition embellishments were a perfect addition to the page. I think the words provided are pretty timeless for most everyone scrapbooking and memory keeping – life, memory, time, family, friend and journey.
I really enjoyed creating different layouts and just playing around with my supplies. Old fashioned scrapbooking fun, right?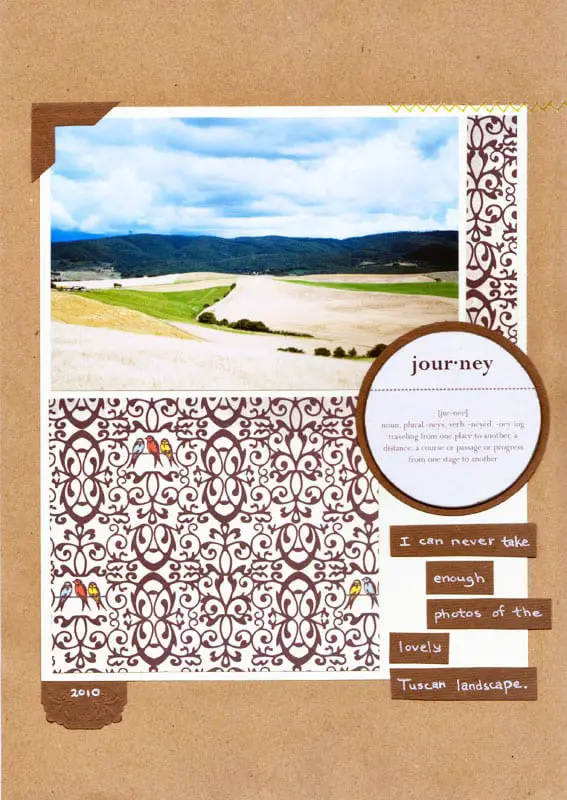 I realized that since I love the plain kraft paper look, I might just buy a bound kraft journal to scrapbook in. Perhaps it would keep things neater? I know that on 2ps, Kristina scrapbooks in a spiral bound journal as well! Something to consider.
Going to try and get more scrapbooking fun time in today, so I hope you enjoy this free printable download of embellishments – happy crafting!
If you like my design printables be sure to sign up for my email newsletter for more freebies and the latest updates!