What is Social Media?
Social media marketing is about getting traffic (publicity) for you and your business through social media networks like Twitter, Facebook, Google+, Linked-In and even your website and blog – wherever there is social interaction between you and others. Ultimately, it's a pretty wide, catch-all phrase that people use to refer to the various ways we connect online and thus can promote online. It got me to thinking about how connecting with your customers and interacting with them already existed in the past, in traditional businesses, in traditional ways. People used to send updates via snail mail, from formal press releases to catalogs and handwritten notes. People used to call each other up on the phone, go out on lunches, visit the brick and mortar shop and chit chat to build relationships. All that still happens to some degree in real life. However, it's increasingly more common to have initiated interaction online and in many cases, these relationships remain virtual for life.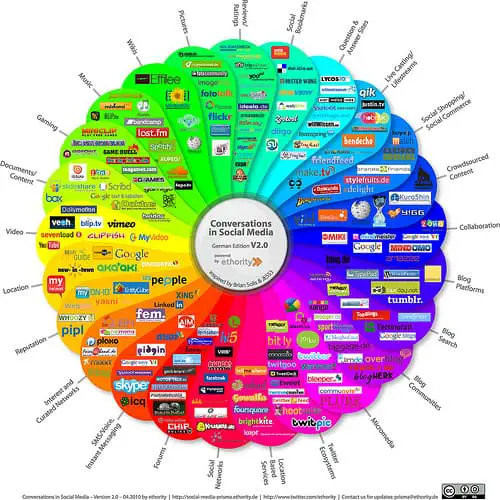 via Flickr birgerking
So when you think about social media, just think about interaction between people. Business to fans, friends to friends, supporters to artists…you get the deal. The difference is that online, it's a whole lot faster and easier to interact. Innovations in technology – such as people getting real-time updates on their smartphones – makes it easy to spread a piece of news across the globe in literally minutes. That possibility created the idea of viral marketing…which was not really possible before we had all these nifty tools online. There's a great video by Laura Roeder that illustrates how easy it is to get your brand in front of new eyes every day with just a tweet. I think we all understand the power of social media marketing…just as many creatives and artists have discovered the Internet as a portal to a whole world of potential fans. We can now connect directly to our customers with ease.
Define Your Goal?
Before you start signing up with every available outlet and blasting messages left and right, it's important to understand your ultimate goal. I think a lot of folks have trouble with the idea of social media, because they don't know what to say or do. You might fall into the trap of just broadcasting about you all the time…or the trap of just chit chatting randomly…ultimately, not yielding any results for your business.
So above all you need to decide what it is you are trying to accomplish. Are you trying to get your brand out there into the world? Get people to your website or shop? Get people to purchase your products and services? It's probably a combination of those things, which is why I always recommend claiming your name on the most popular networks and always adding a call to action back to your website or shop.
Reach Different Audiences With Different Networks
Some folks don't want to bother with social networks and I agree that it can be overwhelming as new platforms are created and the trends keep changing now and again. But it doesn't have to take a whole lot of your time, if you simply schedule in tasks on a regular basis. Realize that you are reaching different audiences on different networks. So you have to decide which spaces might be a good fit for your type of business…or if it's something everyone should jump onto, like Twitter (at least for now)! Just be sure to always point people back to your homebase – your website, blog or shop. Ultimately, you want to lead the audience back to you and your business.
What to Share?
Think like a consumer. What do you want to see and what makes you want to interact? Helpful information, useful tips and tricks around your interests, sales and promotions, the list goes on. I know folks who exclusively post "listed xyz" 24/7. How boring is that?! There's no interaction in that…so that's not being social, my dear. If you provide useful information, interested parties will interact with you and ultimately be led to your business (the idea is that you spreading content that relates to your business). Of course, interaction means you can also ask questions and throw in some lighter chit chat as well… you are human after all. Again, think about real-life interactions, common courtesy, chit-chatting in the office with colleagues and business partners. Today, you simply do this virtually and with a whole lot of people.
Some people go as far as to search out questions and answering them. Providing that service to people who are looking for help…will definitely attract attention, build respect and form connections. If you happen to provide a service that people ask a lot of questions about, providing useful information or advice, really plays into the interaction.
Measure Your Success
In the end, I do think it's important to measure your success through analytics or some type of tracking. You can then make decisions about how much time you put into social media, what works and what doesn't work. This really goes for everything you do! Even if you don't like burying yourself into the numbers, a quick look will tell you what brings traffic to your site. Maybe you want to concentrate on boosting a certain source or changing a strategy and seeing if it makes a difference. I like to take a look at what pieces of information gets retweeted, liked and shared…to get a good idea of what people find useful. Do you know what sources give you the most traffic? Do you know which links people click on to go to your shop and so forth? Analytics might seem like a huge headache, another thing to learn, but it's so important! You might be putting a lot of energy into something that simply doesn't yield results. Or you might be neglecting a goldmine…that could boost you to the next level if you simply give it a bit more time. Yes, you must measure your success (and failures), so you can go back to your ultimate goal, adjust your strategy and keep on interacting and building your business up.
I hope you understand the value in social interactions and the broad reach  you are offered through social media. Don't miss out on a great opportunity, but remember to take action with purpose. Please let me know your thoughts and if you have any tips in the comments below. Thanks!