As many of us probably have a huge list of scrapbooking to do's, I sometimes feel the overwhelm of all that I want to document. Even though it's a hobby and there is no right or wrong, I still feel the obligation at times. We all have scrapbook goals afterall! To start off my year on the right foot, I decided to create an opening page for my 2013 album.
The background paper is a paintable by Prima Marketing that I watercolored up partially. Then I added a bunch of bits and pieces to welcome the new year with my one little word (#OLW) together on a toothpick flag. There's more detailed journaling actually within the envelope from Maya Road.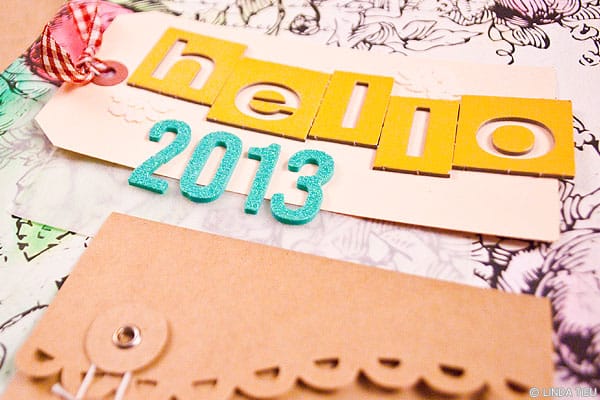 The journaling card is actually an experimental card that I made using some Hero Arts stamps. Instead of using all new materials, I put this layout together by shopping my own stash. I think it's actually a nice reflection of the reality of life. We are made up of our past bits and pieces… and it doesn't look too shabby either. I'm pretty happy with the results and looking forward to a year of happy and fun scrapbooking.
The layout was partially inspired by my word of the year as well – together. It's an idea that just presented itself and I usually don't concentrate too much on choosing a word. I simply wait and see what surfaces itself naturally. In thinking about my word, I like that it can mean keeping myself together as well as being together with others. Dual meanings, always nice!
As we are expecting our first child this February, I know my time will be strapped and I will be challenged in so many ways. So it's important for me to keep it together, not just in getting things done – but in the respect of taking care of myself as well. It's all a bit scary, but good scary. I'm definitely looking forward to rocking the year of 2013. Are you ready for the new year?