I'm a big fan of Karen Gurnberg, a scrapbooker, a mom, a manager, a photographer…an inspiration for all. A while back I had registered for her free class at Big Picture Classes, Embrace Perfection…but didn't really have the time to go through it properly. But I suppose that was an excuse in some ways…perhaps I simply wasn't ready to take it all in.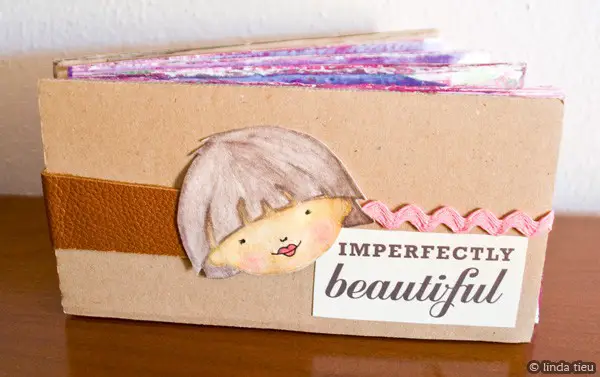 Now that I've finally gone through her presentation, I feel as if it's a wake up call and really changing the way I look at scrapbooking, as well as others things in life. To go back to the root of why we do what we do…and if we are happy with how things are going.
I think all too often, especially when we start sharing our work with others, an element of wanting to be accepted and praised pops up. Even though in the end, it doesn't really matter. You still do what you love, because you are compelled.
I've been quiet on the blog and not sharing so much lately. Busy with things – yes! But also not so comfortable sharing all my personal scrapbooking layouts and projects. They certainly aren't perfect and sometimes I think there's nothing special about them to anyone else…so why would I share or why would anyone care? But wanting to share…it's natural, I think. What stops us…is the fear of being judged probably…
Still not sure how I feel about that at times…and of course when there are other people in my photos, I tend to not share for courtesy of not splashing their faces on the Internet. And I'm just too lazy to blur things out…seems to go against the point of sharnig things…but this is another topic I suppose…
In terms of getting things done and understanding myself a bit more…I just love what Karen says in her class. I encourage everyone to listen to her presentation, whether you scrapbook or not… the idea of embracing imperfection can be applied to any discipline.
I think it has affected me because of that…because I'm thinking about it for my whole life – not just scrapbooking. About wanting to be perfect or appear to be perfect, but struggling…struggling oh so much with it, because it is not possible.
I realize now that no one cares or wants you to be perfect – seriously! If I think about my view on others…it all makes sense. Why can't I easily apply it to myself, right? We can all give each other wise words of wisdom, yet it seems we do not believe or follow it for ourselves.
I do need the reminder…the encouragement and motivation to help break through ugly thoughts. I really only care about being happy…spending time with my family…enjoying this life we have. I just saw this post where Kathy Davis says life is far from perfect but it can still be wonderful! So true.
Not sure why I'm getting all philosophical here… I really just wanted to share the minibook I created  from the quotes Karen provided in the class…and to tell everyone to check it out, because it's an amazing and inspiring class. I love the minibook idea, to help prevent me from spiralling out of control, thinking everything must be perfect as I work here on my desk.
Even though the binding of this book is totally wrong and unstable…not enough support when it comes to binding of books…
Even though I smeared glue all over, because I have serious issues with controlling that darn glue – all the time…
Even though nothing is straight or aligned…
…yet I still love my book. I had fun with paint, creating the messy crazy background papers. I had fun drawing and coloring my little girls, so they could cheer for me! It was so freeing to just cut with scissors and not care about alignment or perfection. It's simple and cute…just the way I like things. I thought instantly – imperfectly beautiful…that's me.