It's not too late for Father's Day and never a bad time to give Dad a thank you card, right? So I designed this card because I love the idea of kids giving their old man a thank you card, because they turned out awesome. Clever and funny! However, I couldn't find one that all the kids could give to Dad together. Everything out there was singular, so I had to create my own version.
This printable greeting card says "Thanks, Dad. We turned out so awesome." So it's from all the kids in the family (furbaby included in our case) for a Happy Father's Day wish. Perfectly cool and cute, don't you think?
You can download this design for your own personal use below – choose your paper size and right-click to save the PDF on your computer. Feel free to share with your friends as well, because all Dads deserve a big thank you.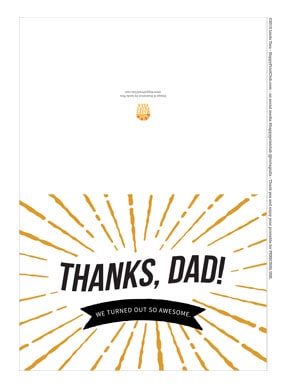 Thanks Dad Card LETTER
Thanks Dad Card A4
If you like printables, be sure to sign-up for my email newsletter here.