My husband and I never really celebrate Valentine's Day with big gestures or all the commercial stuff. We think it's just that, an overblown commercial holiday. That said, I think it's fine to celebrate in whatever way you see fit…because it's good to express your love! Hopefully you do it all yearlong…but I totally understand that the holiday is a nice little reminder.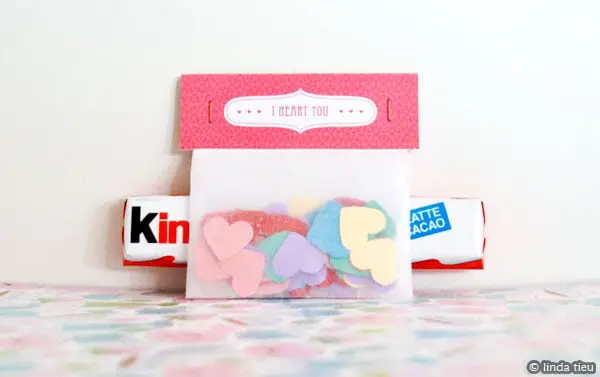 This year I've decided to create little valentines to give to my husband. A countdown of sorts, with a card-a-day from February 1st up to Valentine's Day on February 14th. I'll be leaving little treats and sweet notes to brighten up his day and express my love. Just something small, but meaningful…not to mention stretching out the whole affair into two weeks. Sometimes we don't have to make cards to send in the mail. Try making cards for those you see everyday – it will still be appreciate. My first little valentine is a mock bag of heart treats- I liked the idea of mimicking a treat bag, but really wanted to include a bar of chocolate. So I included the folded paper in my mock treat bag to slip the bar of chocolate into.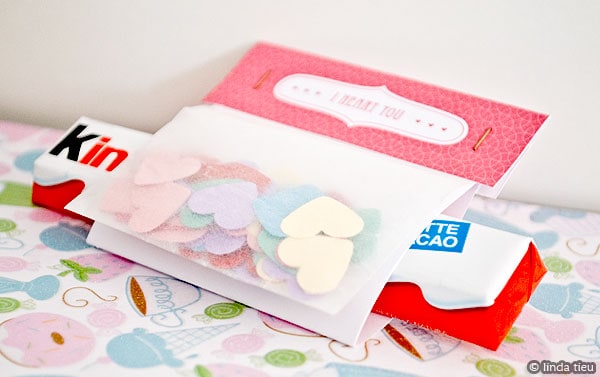 I printed out my own design of Valentine treat bag toppers for this project, so please feel free to download for your own personal use below. There are six different designs to choose from, just print at your desired size and fold in half over your treat bags.
Download Valentine treat bag toppers ZIP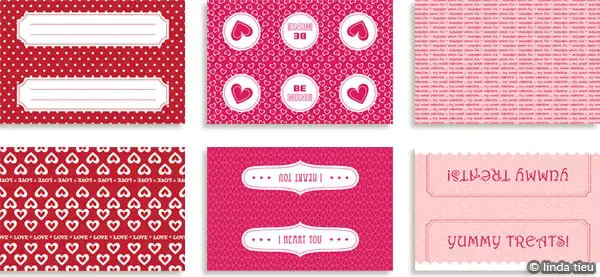 It was simple to make this little valentine with a bunch of paper punched hearts inside a glassine envelope, stapled under the printed design. On the back, I wrote a little note and actually messed up a bit…see the sparkly glob there. I decided to stamp, doodle, and glue word strips over it all – a nice way to cover up mistakes. It's definitely handmade!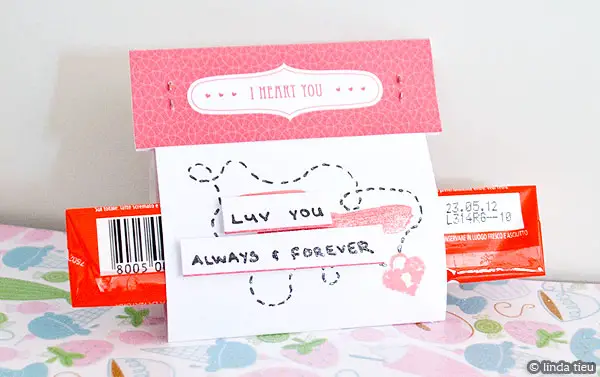 I think it turned out quite nicely for a mock treat bag. Of course, you could make a real treat bag with candy or little chocolates inside. It all depends on what sweets you would like to include.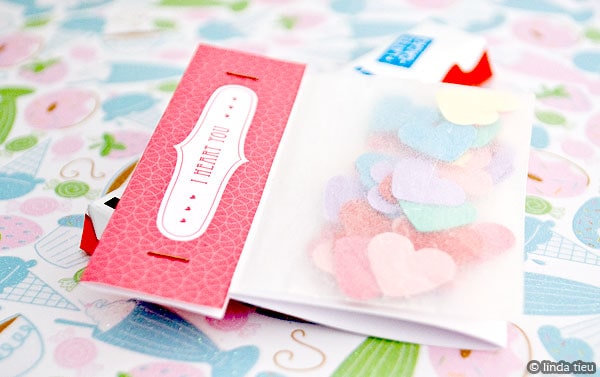 Alternatively, you can also slip in a bar of chocolate as I did…or a gift card or similar gift. Simply sweet, no?