I'm sure many of you know of Lotta Bruhn and her wonderful designs. You can follow her blog lottabruhn.typepad.com and see more of her work there. I've been following her for a while, just because it makes me smile and happy to see her work. Her illustration is super cute and totally the style that I love.  She also shows some pattern design and that is something I aspire to do. One day I will have to show my pattern work in another blog (I'm actually actively working on it, so I suppose posting about it now will hold me accountable to share soon!)
Thank you to Lotta for letting me post about her on my blog for inspiration Mondays and also some photos of her work – all copyright Lotta Bruhn of course! Are her designs super kawaii?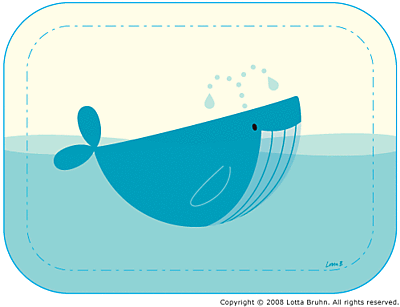 Also, every so often Lotta posts a free sticker sheet for personal use…check them out…how cool is that?! Sometimes she shares her process as well, from sketch to final design and that is also nice to see. It's amazing how much more of the artist's process we can learn about these days.
BTW, I just realized that many of the artists I follow have a name starting with the letter L and my name is Linda also starting with the letter L. Hmm…coincidence? Spooky! Well, hope you have a happy Monday and have gathered much inspiration here. Today is actually a holiday in Italy, called Pasquetta. It's the day after Easter and folks get the day off from work, so I'm off to spend time with family and eat way too much again.