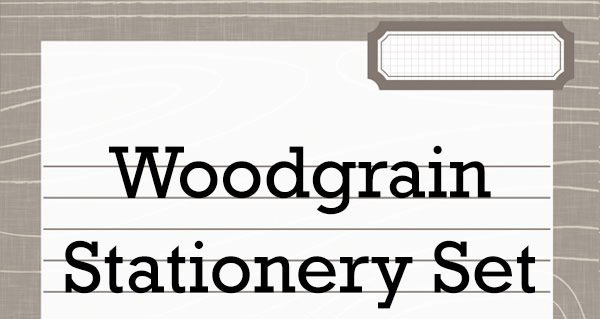 Nothing like a manly woodgrain patterned stationery set for your next round of correspondence! I thought it was about time I shared a free printable again and decided to go with an everyday design that anyone can use.
I recently made a trip to the post office and realized that international postage has increased here in Italy. It was a bummer, but then I realized that the cost enables me to send a letter across the globe. Many miles of transportation, so of course there is a cost! When my recipient gets my handwritten snail mail, I know they will appreciate it, so it's totally worth it. Even an everyday message of hello can really brighten up someone's day. Letters create connection that no email, text message or even video message can do. It's just not the same.
So please enjoy the set of woodgrain stationery below, provided in both LETTER and A4 paper sizes. The PDF contains the envelope template, a page of lined stationery and a page of blank stationery. You can download and use whichever combination is to your liking and even share with friends. What if you created a gift set of stationery for your pen pal?
woodgrain-stationery-set-letter
I hope you enjoy this printable woodgrain stationery set and please remember it's for personal use only. You can certainly share with friends and direct them here to download as well. Enjoy!
Sign-up for my weekly newsletter if you would like more printables and don't hesitate to comment with your design requests below. I'm always looking for ideas more stationery goodies for everyone!