I believe in progress not perfection. It's easier to get things done, when you have the right mindset. Download this free printable as a daily reminder!
No matter where you are at in your life, there's no doubt that you can always improve something. We all have aspects we want to work on and more often than not, we have lots of dreams and goals that just seem out of reach.
Lately, I've been feeling that end-of-the-year anxiety. Whenever a new year rolls around, I often find my mind filled with so many thoughts, aspirations and fears… so many feelings that it just seems overwhelming.
So it's time to reset and guide myself out of this anxious space.
Reset your life!
We have all accomplished things in life and we have all failed at things in life. But I think it's the most important that we truly believe in a growth mindset, allowing ourselves the possibility of learning and ultimately changing for the better, no matter what happens.
As a first step, I wanted to create this printable quote art that serves as a mantra. It's a proclamation – I Believe in Progress Not Perfection –  that reinforces the idea of moving forward. To me, it ultimately means that you take responsibility for your own life and know that only you can make the changes required. Nothing good will come from grasping for perfection (a total illusion), so simply believe in progress instead.
I designed this printable as a beautiful printable piece of art that you can sign and date – to make it official – and post up so that you can read it to yourself daily. The repetition will truly help to solidify the idea and I really need it for myself as well. This is the first step in creating a reset for yourself.
Download I Believe in Progress Not Perfection Free Printable PDF below…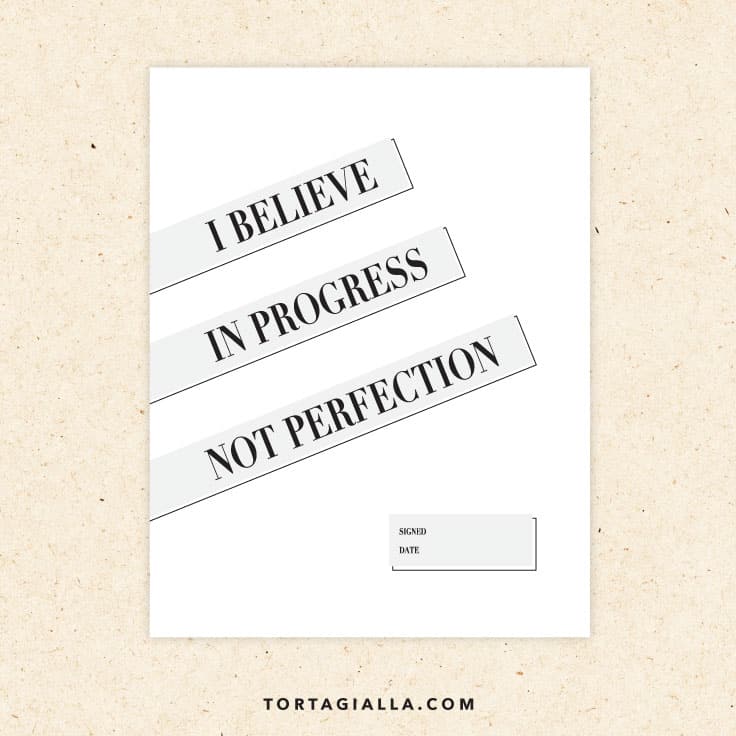 I Believe in Progress Not Perfection PDF
What's next?
This free design printable is part of a series I am working on, related to resetting my life so I can start fresh and enter the new year with intention. You can download the 2020 printable binder cover I shared here and check the blog for upcoming posts.
Don't want to miss out on free printables? Sign-up for my email newsletter to get all the updates >>