A classic motif, how about this cute sun drawing as a free printable download? You can use it as a digital stamp or a stencil for other crafty projects.
As you can see I created a variation for this little digital drawing. Is it a happy sun or a flower? Maybe both!
More doodles to share with you and in playing around, it made me realize how simple little tweaks can make such a difference. Suddenly a sun because a flower. You can download the giant 300dpi line drawings above by just clicking and downloading to your computer.
I also played around coloring up the images and creating some more patterns. Just randomness and experimentation. It all looks very graphic and not what you normally see in patterns, but I am still learning!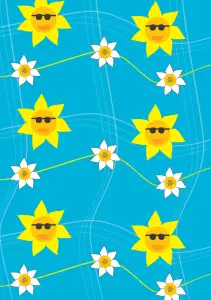 The days are getting super hot here in Tuscany, Italy and we have a little family of geckos or some type of lizard living outside our house on the walls. They supposedly eat mosquitos, so I guess that's a good thing?
Maybe it's the heat getting to me or perhaps because I have a lot more time to actually ponder things these days, working alone at home. It always makes me ruminate about what I should be doing and what I should be accomplishing. I love my country life here in Italy, but I know I've got to do more as well.  So many thoughts about my creative life!
I also wanted to give a shout out to Lindsay from The Frugal Crafter blog as she mentioned me in her latest post – what an honor! Thank you!
So that's it for today. If you like my design printables be sure to sign up for my email newsletter for more freebies and the latest updates, right in your email inbox.