Create a relaxing space with this inhale exhale printable free download that includes a complete gallery wall art set for FREE!
I'm sure you've seen the many printable inhale exhale wall art prints out there, but I wanted to create my own interpretation. My thought was a very large triptych to really create space on your walls to promote tranquility and calm. Our physical environment greatly affects our mood and emotions, so it's very important to choose home decor that speaks to what you want in life.
I want to help you bring comfort and calm into your living space with this inhale exhale printable design.
Since I'm a graphic designer, a wall art set is really the default for when it comes to creating something from my thoughts and desires. Sharing my artwork through printables, is something that gives me a lot of satisfaction as well!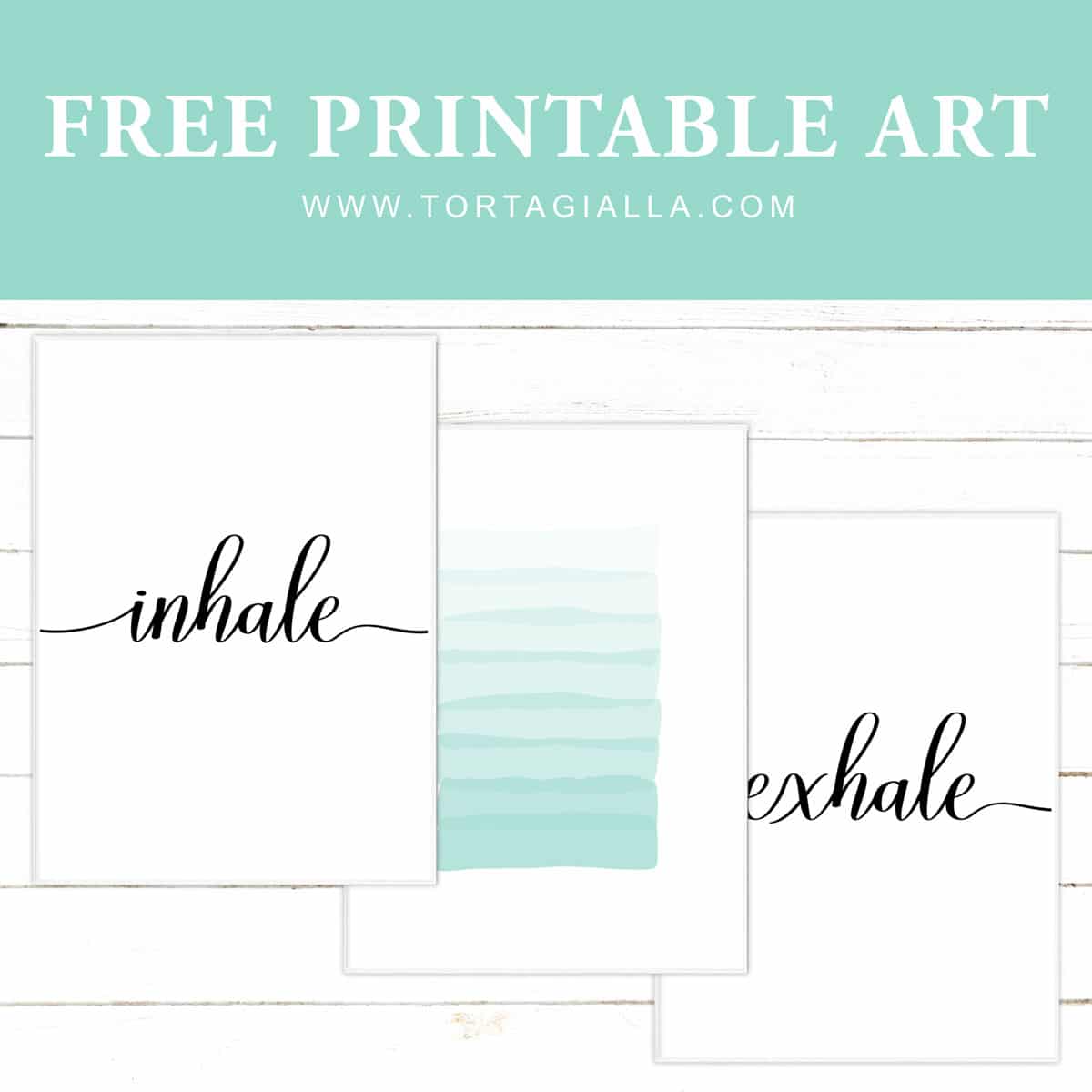 This inhale exhale design uses a script font on a continuous line. However, I wanted to add a colored abstract print to break up the white space in the middle. Again, it's part of the idea of creating space and room to breathe. The aqua-colored abstract brushstrokes print gives you a feeling of lightness and serenity. I really do hope you can feel that!
This beautiful minimalist design will give you calm serene vibes and I think it's great for the living room, bedroom and any space that needs some meaningful home decor. 
This printable wall art set is completely FREE as a thank you for visiting my blog and supporting my design work! 
In other words, you can instantly download high-quality, 300dpi JPG files for all three print designs shown. The printable files are included in the following ratios for each print, just download the ZIP file of your preference below.
Download Free Inhale Exhale Wall Art Set
Once you have the file saved on your computer, you can unzip it and find all the printable JPGs. You can print them up to 1 meter tall without losing the 300dpi quality, otherwise just size however you would like for your printer or when ordering online. 
We all need a bit of beauty and tranquility in our living spaces, so this is my gift to you. I'm also a big fan of GIANT decor, so don't hesitate to get these printed in poster sizes as well.  Ready to refresh your living space with this beautiful minimal printable art set? Enjoy!
More FREE Printables…
You might also like these printable posts:
Get  my email newsletter so you don't miss out on new posts >>
Want more modern gallery wall art printables to bring life to the walls of your space? Check out my Etsy shop of premium wall art printables here >>