Looking for some posters to put up and express your support for my body my choice? Download these free digital printable pro-choice posters!
Is it a natural progression of growing up or is the world changing drastically only now? I'm American and living abroad, but I have definitely been affected by the trouble brewing in the States, as well as across governments of the world. Very alarming changes are happening and I feel that we need to pay attention. Perhaps I was simply oblivious as a child and thankfully so to have had a youth with less worries. But now it seems like there is a second to second onslaught of negative news. People's rights are being stripped away and there's just a movement towards oppression of people. Many worrying and scary things are happening.
Living abroad means that is not easy to join in physically with protests in American right now and one can easily be too detached and removed from it all… but honestly, what happens in the USA has a butterfly effect across the world as well. We all have to pay attention no matter where we live.
With my skills as a graphic designer, I know that one way I can contribute virtually is to provide some printable designs for those of you who choose to go out and show your support through peaceful protests as well as simply declaring your position with a few yard signs, posters in your cubicle, etc. Don't be afraid to express you true feelings and support. I think we really need to be as active as possible and not be afraid to declare what we support.
Free Printable My Body My Choice / Pro-Choice Posters
I've designed three different poster designs in a few variations depending on your preferences. They are easy enough to download and print at home or you can send to a print shop and get them printed professionally. Black and white is pretty much classic, so feel free to use these downloads as you see fit. I've also seen that green is also an international color to be used for pro-abortion movements… so wanted to include that color as well. I hope you will find these printables useful!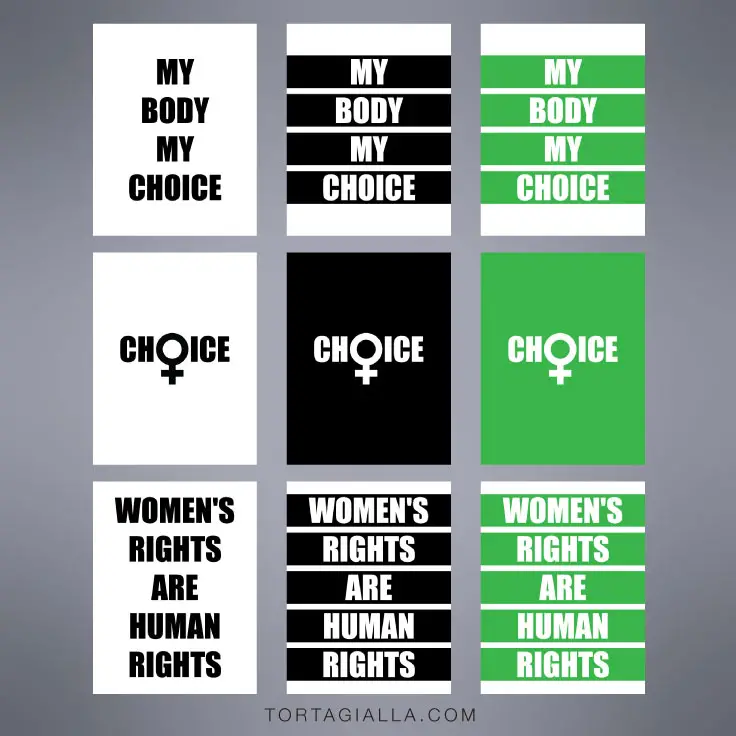 DOWNLOAD: PDF with all 9 Designs – My Body My Choice Pro-Choice Posters
DOWNLOAD: ZIP file with separate JPGs of 9 Designs – My Body My Choice Pro Choice Posters
Or right-click to save individual JPGs of each poster design below for social media or digital use:
Where is your money going to and supporting?
BTW, I also found out about this website Progressive Shopper and they even have a browser extension, so whenever you shop you can be more aware of where your money is truly going. Although I understand it's not always possible to boycott all sources that might be pivotal to your lifestyle, it's always good to be aware and make changes where you can. Collectively it will make a difference. We have to make some noise in all arenas of life… good trouble, right?
I'm a digital printable enthusiast who loves journaling, stationery and all things cute and paper. You can follow me on IG as @tortagialla and also support my design work on Ko-fi – thank you in advance!
Want more printable designs?
There are also Black Lives Matter Printable Posters posted on the blog and after receiving feedback another set of posters for activism in multiple skin tones as well.
My name is Linda and I'm a graphic designer, born and raised in Los Angeles and currently living in Italy. I regularly share printable designs on this blog for free download, so check out all the freebies and don't miss out on new posts by signing-up for my email newsletter >>
Thank you for your support! Keep spreading the word and share this post with anyone who could use these designs.