The Pixel and Paper Series highlights digital techniques and products for scrapbookers like you and me. I believe that everyone should consider digital elements to be a part of their scrapbooking toolbox, so let's learn together what the possibilities are. Each week, I'll be sharing the opinion of a real-life scrapbooker to reveal how they use digital in their scrapbooking. Each post will also offer a freebie download to help you get started on your pixel and paper journey. Enjoy!
Introducing… Amy Tan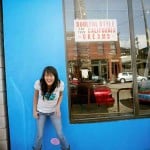 Well known in the the industry – from fashion designer to scrapbooking role model – Amy is a product designer with American Crafts. She's so inspiring, always sharing her colorful, happy memory keeping adventures. You'll find lots of inspiration on her blog, from scrapbooking layouts, minibook inspiration, her travels and lifestyle, products and of course, her dogs!
I've always been inspired by how freely Amy scraps, embracing her own unique style and also scrapping on the go… to capture all those precious moments in her life.
Amy says:
I absolutely think technology goes hand in hand with papercrafting. Love that we are so connected through our digital lives – from taking and sharing our digital photos to printing them out and making mini albums with our hands. Whether you choose to scrapbook digitally, traditionally, or hybrid, we can all use technology to help us document our lives.
Take Advantage of Technology
I think the big take away from Amy is about taking advantage of the technology we have available to us today. For those who are loyal paper scrappers, going digital doesn't mean abandoning your paper stashes. It's really about adopting new tools to make your scrapbooking easier and more fun… and perhaps more integrated into your daily lives.
How many of our photos these days come from our phone? Now we are able to catch moments that might have been too fleeting in the past, when you couldn't whip out your camera in time. I've also recently discovered the beauty of connecting Dropbox to my smartphone. It's free and every photo you take syncs back to your Dropbox. No more accidental loss of photos and immediate access on my computer for printing and posting. How amazing is that?
Amy uses digital designs in her Project Life scrapbooking along with lots of real-life products that she loves. Digital is simply another tool.
via Amy Tan blog
Probably the most representative technology booster that Amy uses is printing photos on the go and adding them into her travel minibooks. She designs many daybooks that you can purchase and she prints her photos with a portable printer she brings along during her travels. Talk about instant scrapbooking!
via Amy Tan blog
I think that Amy is a great example of how someone can love technology and be totally immersed in it, yet still be a full blown paper scrapbooker. It's this hybrid mix that I think many of the younger generations are growing up into. Digital tools are ingrained in our society, but that doesn't mean good old fashioned scrapbooking and memory keeping can't be married with it.
Try It For Yourself
Think about how you can take advantage of technology for your scrapbooking journey. Are you using your phone photos and taking snapshots on the go? Are you able to scrap on the go or use digital tools to journal and keep those details that we so often forget about?
I've designed a set of journaling cards that are great to keep handy in your purse! The idea is to jot down that quote, that memory, that little note that you don't want to forget. Don't forget to take a snapshot with your phone as well, to accompany the memory and I really do recommend connecting Dropbox to your phone. It's been one of the best things I've done for my scrapbooking! Enjoy!
 Download BTP_EasyJournalingCardsSampler
If you like printables, be sure to sign up for my email newsletter for new designs, links to freebies and the latest from yours truly.