The Pixel and Paper Series highlights digital techniques and products for scrapbookers like you and me. I believe that everyone should consider digital elements to be a part of their scrapbooking toolbox, so let's learn together what the possibilities are. Each week, I'll be sharing the opinion of a real-life scrapbooker to reveal how they use digital in their scrapbooking. Each post will also offer a freebie download to help you get started on your pixel and paper journey. Enjoy!
Introducing… Katie the Scrapbook Lady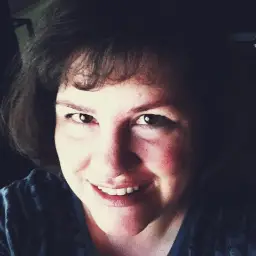 A super prolific digital scrapbooker, you probably know Katie from The Daily Digi and The Digi Show. She's an amazingly efficient scrapbooker and she's always sharing tips, tricks and goodies.  Most definitely an inspiring lady who's been around the industry for a long time. She's also offering her template designs to help you scrap your memories with ease! I had to ask about her thoughts in regards to using digital tools in scrapbooking.
Katie says:
I think digital design/scrapbooking tools are so useful for everyone! I know some people are intimidated by their computers, and others just really love the tactile feeling of "real" paper, so I realize that digital isn't for everyone. However, the journaling, title, and photo editing tools are of great use to anyone. My favorite piece of advice for someone who just wants to dabble with some digital effects would be to try adding word art to a photo. I wrote an article for The Daily Digi called "Write on Your Photos" that has been very popular with paper scrappers.

I really believe that the divide is becoming less of a difference. Nowadays, computers are such a part of our everyday world that it's natural to turn to digital skills to enhance any type of project – even paper scrapping.
Embrace Your Computer
I agree with Katie that these days, using your computer in scrapbooking has become pretty commonplace. Perhaps scrapbookers don't even realize that they are using digital tools. From camera phone photography, blogging, social media "journaling" to digital photo processing and typing journaling out – they all count as your digital tools.
I think the key is to realize that your computer is a resource and that you shouldn't hesitate to use it to the max.
Processing your photos is a huge element these days and we are all pretty much dealing with digital photos, so it's inevitable… you've got to embrace your computer, right? Even simply adding some word art as Katie mentioned, which can be super simple, can help to enhance your scrapbooking.
via Katie's blog
I know that Katie also loves to use digital graphics in her scrapbooking… think of it like a premade sticker, notecard or element… like paper embellishments. Why not consider printing out digital designs to use in your paper scrapbooking?
Try It For Yourself
I'm a big fan of graphic journaling cards as embellishments in layouts – easy to pop into templates as well. For the Valentine holiday, I decided to create a few love themed cards… I hope you will enjoy using them in your projects, download the sampler below and try some digital in your scrapbooking today. Have fun!
Download Love Journaling Cards
If you like printables, be sure to sign up for my email newsletter for new designs, links to freebies and the latest from yours truly.