The other day, I doodled up a little Halloween girl and wrote "Treats Only, please!" because I do like the treat part, not so much the trick part of this holiday. I remember being scared wayyyy too much in childhood, because our neighborhood had a thing for haunted houses and "trials" before you actually get a candy. Well, no more of that…I embrace just having treats! After finishing up my art journal page of this illustration, I thought it would be really cute attached to the Halloween treats handed out…so here we have a new freebie printable! Pretty cute labels, no?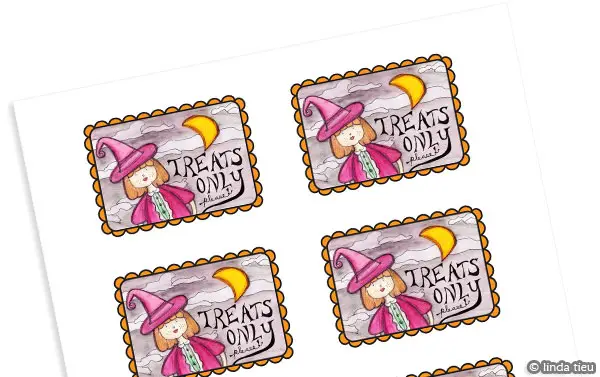 Download Printable Halloween Treats Only Please Labels PDF
I suppose you can use these as toppers for bags as well or labels on candy bars…anything in the Halloween spirit, having to do with treats! Yay! Enjoy for your personal projects and feel free to spread the word and point folks back to this post. Thanks!