I'm pretty sure you have witnessed the adult coloring book trend. It's no surprise, since art therapists have been using similar techniques to help patients deal with anxiety and stress.
I think crafty folks like you and me have been doing this kind of therapy all along! Scrapbooking, cardmaking, playing with pretty paper – like coloring – can be another form of meditation, right?
However, I was surprised to learn learn that coloring allows us to switch off our brains from other thoughts and focus on a simple activity whereas doodling and other forms of creation might not.
Apparently, when there are options and too many decisions to be made, it can be overwhelming. Coloring is much more simple with repetitive movement and simply filling in of areas.
Okay, maybe there are some people that do such fancy coloring, it might still be stress inducing for me – hah! But I thought Kathy Rac's 30 Day coloring challenge over at TheDailyMarker.com would be a nice way to color your stress away! I've totally missed a huge part of it, but better late than never, right?
I also realized that I used to make so many black and white line drawing illustrations as digital stamps. It's like a free library of printables that are great for coloring, so feel free to print and color along – link to a whole bunch of free printable designs below.  It'll be fun to join in on the challenge and super easy to color a little bit every day with these images…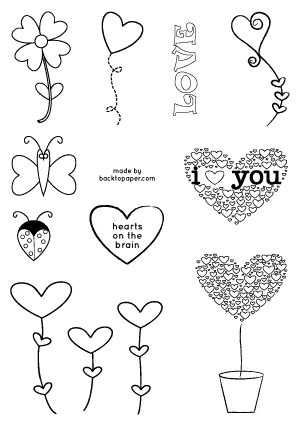 I hope you are inspired to color away your stress with just a few minutes a day. Let me know what you think!? If you enjoy printables, sign up for my weekly newsletter to get the latest updates and freebies!