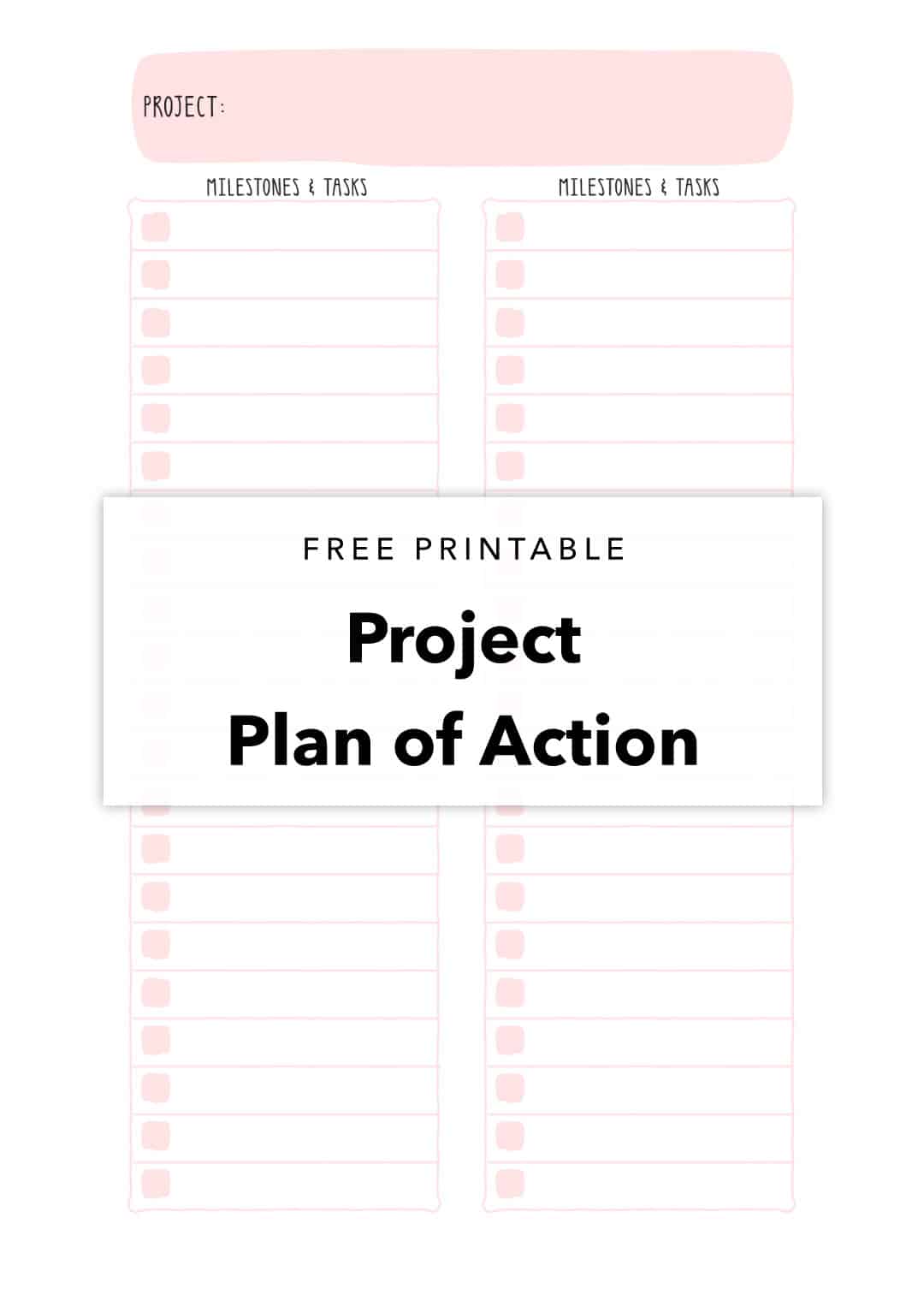 Leading up to the new year, I'm going through my own planning process for 2018 and sharing the printables with you here on the blog.
After the past couple of weeks, we've finally gotten to the project planning!
When it comes to actually getting things done, it really doesn't have to be complicated. I used to be a project manager with big teams and lots of dependencies. So there are loads of fancy software programs to help create intricate project plans. There's definitely merit and reason for all of that, but when it comes down to a personal goal or solopreneur ventures – you are basically the only guy on the job.
Rather than over complicating the process and spending way too much time on the planning part, I suggest getting things down and dirty, as quickly as possible, then moving into action.
Ultimately, you aren't going to accomplish anything if you don't take ACTION!
So from the previous brain dump exercise, you would have gotten everything out of your mind and on paper. Then you can categorize and prioritize, deciding what projects you actually want to tackle.
Now, if you can't decide, no worries… you can create a project plan of action for each of your project ideas… then make your decision on what to actually take action on. I have found that when you go through the process of actually thinking through what you have to do to accomplish a project – it will help you make up your mind.
If you really want to do something, you'll do it even if there are some hard tasks in there. Or something that seems super challenging, will actually seem doable, because you break it out into the small bite-sized tasks. So feel free to do this exercise for all your project ideas!
The printable plan of action is simple a sheet to name your project, set a finish date and list out all the milestones and actions required to get the project done.
It's a simple list of actions!
Easy peasy, right? It really does not have to be more complicated than that. If you are worrying about the order in which things must happen and nested or related tasks – you can certainly try to put things in relative order and make your milestone list, then subitems under those.
But ultimately it doesn't really matter. You can add to your list over time and check items off out of order. The point is not to have a pretty plan, the point is to make sure you take the actions required to get the project done. When you realize you might have forgotten a few steps or learn from experience there are other things to consider, no problem. Add your tasks, adjust your finish date.
Make it useful and make it help you move forward and take action! 
Now if you think there are soooo many lines I've included on the sheet, it is because you want to break your tasks down to the smallest bits possible. If you are like me, you'll take some satisfaction in checking off items done. It really helps with motivation.
Breaking items down also helps to make it approachable and doable even with small bits of time.
If one of your line items is "marketing plan" that is way too big. Instead you have to be specific and maybe write gather photo props, take 16 photos, edit photos, post daily photos – something like that. Try to break it down as much as possible.
If you find that you just don't have a lot of tasks, maybe it's not really a big project, but that's okay too. It should be quick and easy to get done and you will have a project completed under your belt!
And it's really as simple as that. I think we often overcomplicate things, so I'm really looking for effectiveness and simplicity for 2018.
Download the worksheet in your preferred paper size below and print as many copies as you need. Plan away and let this exercise help you prepare your plan of action and maybe eliminate or put on the back burner some projects that don't really float your boat after all!
TG Planning5 Project Plan LETTER
If you like this printable be sure to check out the previous printable for brain dumping here >>